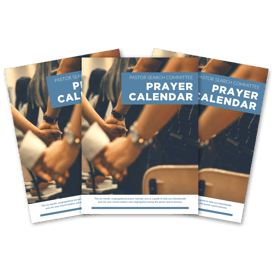 The pastor search process can be a stressful and anxiety-filled chapter in a church's history. Here at Vanderbloemen, we've helped hundreds of pastor search committees discern whom God is calling to their church.
Our team has created this prayer calendar to help you and your church pray through this crucial time in your church's life. While your church's pastor search process is unique, we hope this six-month, congregational prayer calendar acts as a guide to help you know how to pray for your church leaders and congregation during this exciting time.
Here is a download of a specific prayer calendar for your church during your pastor search process.
This guide includes:
Action steps for each of the 6 months in the pastor search process
Encouraging biblical wisdom for every month
Prayer points for your church leaders and congregation
....and more!