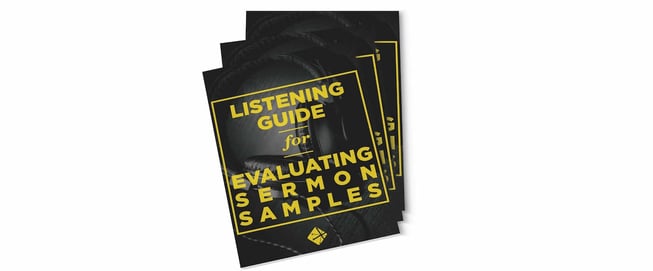 As you are interviewing and vetting candidates for a Senior Pastor or Teaching Pastor position, at some point you'll have to evaluate your top candidates' sermon samples. But it can be tough to know what exactly to listen for and how to assess a candidate's teaching style.
Since we are always looking for more ways to serve you, our team created this listening guide to aid your Pastor Search Committee members as you evaluate the teaching/sermon samples of your pastoral candidates.
There are twelve questions for the areas of both presentation and content. We pray this listening guide is helpful for your search team as you evaluate which candidates have the style and teaching that is the best fit for your congregation and your church's mission.
In this download, you will get:
12 presentation checkpoints to assess
12 content checkpoints to assess
Encouragements for church leaders seeking their next Senior Pastor